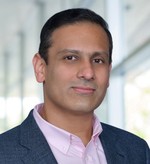 Vishwas Seshadri, Ph.D., M.B.A.
Chief Executive Officer, Director
Dr. Vishwas (Vish) Seshadri, Ph.D., M.B.A., joined Abeona as Head of Research & Clinical Development in June 2021 and was appointed President and Chief Executive Officer, and member of the Company's Board of Directors, in October 2021. Dr. Seshadri has more than 20 years of experience including academia and various senior and executive leadership roles in the life sciences industry overseeing product development, regulatory submissions, and commercialization for novel therapies including personalized, autologous cell and gene therapies. Prior to joining Abeona, Dr. Seshadri served in roles of increasing responsibility at Celgene Corporation, now a subsidiary of Bristol-Myers Squibb Company (BMS), where he focused on development and commercialization of novel therapies in hematology and oncology. Most recently, he led the team responsible for the launch of Breyanzi® (lisocabtagene maraleucel; liso-cel), an autologous CD19-directed chimeric antigen receptor (CAR) T cell therapy for relapsed or refractory large B-cell lymphoma. Previously, he was Head of Early-Stage Upstream Process Development for Biologics at Dr. Reddy's Laboratories. Dr. Seshadri completed his Ph.D. in Microbiology, Immunology & Molecular Biology and his post-doc in epigenetics at University of Arizona, and earned his M.B.A. in Finance and Healthcare from the Wharton School of the University of Pennsylvania.
Edward Carr
Chief Financial Officer, Principal Financial Officer
Ed Carr, Chief Financial Officer, joined Abeona in 2018, bringing more than 25 years of corporate public accounting experience to the Company. Most recently, he served as Vice President and Assistant Controller at Coty Inc., a publicly listed multinational company. Mr. Carr has significant experience managing various accounting, financial reporting, internal controls, tax and treasury matters. Prior to Coty, he served for more than 10 years as Chief Accounting Officer at Foster Wheeler AG. Mr. Carr, who is a Certified Public Accountant, began his career at Ernst & Young LLP. He holds a B.S. and Master of Professional Accountancy from West Virginia University.
Greg Gin
Vice President, Investor Relations and Corporate Communications
Greg Gin joined Abeona as Vice President, Investor Relations in May 2020. In this role, he is responsible for all aspects of Abeona's investor relations program, along with involvement in wider communications programs and supporting the company's financing activities. Mr. Gin has served as the Head of Investor Relations at four public companies and brings more than 25 years of investor relations, communications, and capital markets experience with small- and mid-cap biotechnology and specialty pharmaceutical companies developing novel treatments for orphan diseases and areas of high unmet medical need. Immediately prior to joining Abeona, Mr. Gin was Head of Investor Relations at Affimed, an immuno-oncology company, where he was responsible for the company's global investor relations program.
Brian Kevany, Ph.D.
Vice President, Chief Technical Officer
Brian Kevany, Ph.D., joined Abeona at the beginning of 2018 as a scientist in the product development department bringing 15+ years of molecular biology and biochemistry research training to Abeona. Prior to joining Abeona, he managed a small biotechnology startup company which utilized next-generation sequencing for high throughput genotyping in both the medical and agricultural spaces. A postdoctoral research position at the University of Wisconsin-Madison, working on developing new first-line antibiotics to treat drug-resistant tuberculosis, and a Fellowship at Case Western Reserve University, studying a wide range of vision research topics, resulted in an exemplary publication record in a wide range of peer-reviewed journals. His research at Case Western, under the mentorship of Dr. Krzysztof Palczewski, involved studying both the biochemical basis of retinal development as well as the pathophysiology of animal models of blinding diseases. Prior to his postdoctoral research, he earned a Ph.D. in Molecular and Cellular Biology from the University of Florida and a B.S. degree with honors from Michigan State University.
Kristina Maximenko
Vice President, Human Resources
Ms. Maximenko has 15 years of human resources experience, having most recently served as the Global HR Director and Head of HR for Advanced Accelerator Applications (AAAP), a Novartis company. Prior to Novartis' acquisition of AAAP, she was responsible for more than 700 employees operating in a matrix environment within 11 International locations and in more than 20 US states.
Ms. Maximenko has hands-on experience setting up the HR function from the ground up in growing biotechs from pre-clinical to commercialization stage and building out teams in various functional areas including R&D, Medical Affairs, Commercial, Quality & TechOps, and others. She's got expertise in multiple HR disciplines, including talent acquisition, employee relations, organizational development and compensation.
Ms. Maximenko received a Master of Laws degree in International Law from Far Eastern National University with additional certifications in Human Resources.
Scott Nogi
Vice President, Business Operations
Scott Nogi, Vice President of Business Operations, joined Abeona in 2018 with 20 years of operational and administrative management expertise across a wide range of organizations. In his role, he leads Business Development activities and is responsible for information technology (IT), database management systems (DBMS), and commercial property management. Previously, Mr. Nogi held roles as Vice President of Business Development at Access Pharmaceuticals, Inc., where he worked on partnerships for an oral mucoadhesive product in the cancer space; and Vice President of Operations at SCO Capital Management, a biotech-focused value fund, where he managed all operations, audit, fund administration, IT systems, and human resources. Mr. Nogi also served as Executive Director of Kolot Chayeinu / Voices of Our Lives, a non-profit organization, where he led the business strategy and operations, finances, facilities, and staff. Mr. Nogi earned his MBA in Management and Strategy from the Stern School of Business at New York University and his BFA also from New York University.
Brendan O'Malley, J.D., Ph.D.
Senior Vice President, General Counsel
Brendan O'Malley, J.D., Ph.D., joined Abeona in 2019 as Chief IP Counsel, bringing significant technical and legal expertise to the Abeona team. Prior to joining Abeona, he was a partner at the prominent New York patent litigation firm Fitzpatrick Cella Harper & Scinto, where he started his career as a summer associate in 2006, and then at Venable LLP, which merged with Fitzpatrick in 2018. While at Fitzpatrick and Venable, Dr. O'Malley litigated a wide variety of biopharmaceutical patent cases in the United States District Courts, at the Federal Circuit, and before the U.S. Patent and Trademark Office, negotiated numerous settlement and license agreements, and provided many patent opinions in connection with M&A due diligence in the biotech space.
While attending law school at Benjamin N. Cardozo School of Law, Dr. O'Malley served as a judicial intern to Judge William H. Pauley in the U.S. District Court for the Southern District of New York.
Before law school, he earned a Ph.D. in Molecular Biology & Microbiology from Tufts University School of Medicine, where he studied the role of protein-protein interactions in hepatitis virus assembly, and a B.S. degree magna cum laude from the University of Massachusetts Dartmouth.