Carsten Thiel, PhD
Chief Executive Officer
Carsten Thiel, PhD, joined Abeona as Chief Executive Officer on April 2, 2018, bringing 25 years of proven global biopharmaceutical industry experience, including rare and orphan diseases. Prior to Abeona, Dr. Thiel was Executive Vice President & Chief Commercial Officer at Alexion, where he led a global commercial organization to deliver robust growth and execution on behalf of patients. Previously, he served as Senior Vice President, Europe/Middle East/Africa & Asia Pacific of Alexion where he was responsible for driving the Alexion's global commercial operations, including maximizing the current portfolio as well as guiding the launch of anticipated new products and indications. Dr. Thiel had also managed the regional and global functions located at the European headquarters in Switzerland. Prior to joining Alexion, Dr. Thiel served as Vice President, Head of Europe at Amgen from 2011 to 2014, where he led regional operations and was responsible for products in hematology/oncology, nephrology, and bone disorders, and prepared for new product launches in inflammation and cardiology. Prior to Amgen, Dr. Thiel held sales and marketing leadership roles across Europe at Roche. Dr. Thiel has a Ph.D. in Molecular Biology and Biochemistry from the Max Planck Institute, Germany, and a Master's Degree in Biochemistry from the University of Marburg, Germany.
Timothy J. Miller, PhD
President & Chief Scientific Officer
Timothy J. Miller, PhD, is President & Chief Scientific Officer of Abeona Therapeutics Inc. as of April 2, 2018. Dr. Miller was formerly CEO of Abeona. He has 16 years of scientific research, product development, regulatory and clinical operations expertise, with a focus on transitioning novel biotherapeutics through pre-clinical phases and into Phase 1 and 2 human clinical trials. Dr. Miller was President & CEO of Red5 Pharmaceuticals from 2013 until 2015 and was Vice President, Business Development of BioEnterprise Inc in 2015. He was Senior Director of Product Development at SironRX Therapeutics from 2010 to 2013. Between 1996 and 2010 Dr. Miller held various positions at several companies focusing on gene therapy and regenerative medicine. Dr. Miller earned his PhD in Pharmacology with a focus on Gene therapy/Cystic Fibrosis from Case Western University. He also holds a B.S. in Biology and M.S. in Molecular Biology from John Carroll University (Cleveland, OH).
Max Colao
Chief Commercial Officer
Mr. Colao joins Abeona as Chief Commercial Officer bringing more than 20 years of global pharmaceutical and biotechnology experience. Prior to Abeona, he most recently served as the Senior Vice President of US Commercial Operations at Alexion Pharmaceuticals, Inc. In his most recent role at Alexion, Mr. Colao led a team of several hundred people and was responsible for $2 billion in sales across three franchises. Mr. Colao has an extensive track record of successful innovative and competitive biotechnology launches in oncology, nephrology, rheumatology, and ultra-rare diseases. He earlier served as Vice President of the US Metabolic Disorders Business Unit where he established Alexion's second business unit and launched two novel enzyme replacement therapies including the successful launch of Strensiq®. Prior to Alexion, Mr. Colao spent 18 years at Amgen, where he held roles of increasing responsibility in global sales and marketing, departing in 2013 as Vice President of Inflammation Sales. Mr. Colao earned his MBA from the University of Southern California in Los Angeles and his undergraduate degree from the University of California, Los Angeles, with a Bachelor of Science in Applied Mathematics and Economics.
Juan Ruiz, MD, PhD
Chief Medical Officer
Juan Ruiz, PhD joins Abeona following a storied career in drug development, including C-level positions at Lykera Biomed and Digna Biotech, where he spent over a decade leading teams dedicated to developing gene therapy translational medicine programs. His proven track record demonstrates a start-to-finish scope, from early preclinical / proof of concept studies, to manufacturing, regulatory IND and IMPD submissions, clinical trial design and execution, as well as manufacturing and quality control of the adenoviral vectors. Dr. Ruiz has been instrumental in achieving multiple Orphan Product Designations, has led teams for successful Scientific Advice and Protocol Assistance meetings with the FDA and EMA, and has helped design Patient Reported Outcomes (PRO) in the USA to assess skin outcome measures in patients with Systemic Sclerosis for use as primary endpoints in late-stage clinical trials.
He is the author of over forty peer-reviewed journal articles and book chapters and is an inventor on multiple issued patents. Dr. Ruiz received his medical training at the University of Navarra, where he also completed a PhD in molecular biology. He was a post-doctoral fellow at the University of Connecticut and earned an MBA the IESE Business School, also at the University of Navarra.
Stephen B. Thompson
Chief Accounting Officer
Stephen B. Thompson, the Company's Senior Vice President Finance, became the Chief Accounting Officer, Secretary and Treasurer on January 1, 2015. Mr. Thompson consulted with the Company from December 1, 2013 through December 31, 2014. Prior to December 1, 2013 Mr. Thompson was our Senior Vice President from 2000 and our Chief Financial Officer from 1996. From 1990 to 1996, he was Controller and Administration Manager of Access Pharmaceuticals, Inc., a private Texas corporation. Previously, from 1989 to 1990, Mr. Thompson was Controller of Robert E. Woolley, Inc., a hotel real estate company where he was responsible for accounting, finances and investor relations. From 1985 to 1989, he was Controller of OKC Limited Partnership, an oil and gas company, where he was responsible for accounting, finances and SEC reporting. Between 1975 and 1985 he held various accounting and finance positions with Santa Fe International Corporation.
Kaye Spratt, PhD
Senior Vice President, Regulatory Affairs
Kaye Spratt, PhD, Senior Vice President, Regulatory Affairs, joined our company on November 1, 2015. Dr. Spratt has experience defining nonclinical development plans and strategies to US regulatory authorities. She has more than 20 years of scientific research, product development and translational expertise, with a focus on transitioning novel biologics through nonclinical and translation into Phase 1/2 human clinical trials. Dr. Spratt was Director of Preclinical and Quality Control at Sangamo BioSciences with increasing responsibilities from 1997 until 2015 and was responsible for leading a team of scientists developing novel cell and gene therapy products utilizing the Sangamo Zinc Finger Therapeutic strategy platform. She also has experience in the non-GLP and GLP toxicology and nonclinical safety evaluation of novel biologics and products for product development. Her primary biotech experience has focused on the development of non-viral and viral-mediated gene therapy approaches for monogenic and infectious diseases. Prior to joining Sangamo, Dr. Spratt was a Senior Scientist/Project Leader at Somatix Therapy Corporation. Dr. Spratt has over 40 publications in the Gene Therapy. Dr. Spratt earned her PhD in Microbiology with a focus in molecular biology in infectious diseases from Meharry Medical College. She also holds a B.S. in Biology from Langston University (Langston, OK).
Christine Silverstein
Senior Vice President, Finance & Investor Relations
Christine Silverstein, Senior Vice President, Finance & Investor Relations, joined the company in May of 2016, bringing 15 years of experience in capital markets strategies, investor relations and healthcare media communications. Silverstein began her career in the financial services as an investment advisor at Royal Alliance Associates before moving into investor relations. Prior to her current position, Christine was a Director of Investor Relations at Relmada Therapeutics, Inc. a clinical stage, publicly traded specialty pharmaceutical company. In addition, she served as a Managing Director at SCO Financial Group, a New York-based corporate advisory firm and held senior positions at both The Investor Relations Group (IRG) and Corporate Profile LLC, two boutique investor and public relations agencies. Christine's core focus during her tenure included consulting C-level management on capital markets strategies, media, fundraising initiatives, crisis management and regulatory issues. Christine holds a B.S. from the Peter Tobin College of Business, St. John's University.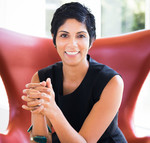 Neena Patil
Senior Vice President, General Counsel
Neena Patil, Senior Vice President, General Counsel, joined the company in 2018, bringing nearly 20 years of global pharmaceutical and biotechnology experience. Prior to Abeona, she most recently served as Associate General Counsel and Vice President of Legal Affairs at Novo Nordisk. In this role, Neena developed legal and compliance strategies for the company and led the team responsible for providing comprehensive legal support to Novo Nordisk's U.S. business.
Her experience spans the handling of complex corporate, regulatory, litigation and compliance matters. She has worked extensively on matters related to product development, manufacturing, marketing approval and commercialization across therapeutic areas including in rare diseases. Neena has developed a track record for building key legal functions and organizations necessary to support growing businesses. Her experience prior to Novo Nordisk includes various positions at other global biopharmaceutical companies including Pfizer and Sanofi.
Neena earned her JD and Masters in Health Services Administration from the University of Michigan in Ann Arbor and her undergraduate degree from Georgetown University with a Bachelor of Arts in Political Science.
Jay Bircher
Senior Vice President, Quality & Technical Operations
Jay Bircher, Senior Vice President, Quality & Technical Operations, joined Abeona on January 8, 2018. Jay brings over 28 years of Pharmaceutical, Biotechnology and Medical Device experience, knowledge and leadership in the areas of Microbiology, Quality Assurance, Quality Control, Regulatory Compliance, Validation, Sterile Manufacturing, and Operational Excellence. Jay has lead FDA (CBER and CDER), EMEA and other regulatory body inspections with successful outcomes.
Prior to joining Abeona, Jay held quality positions of increasing responsibility with Glaxo, Amgen, Tyco Healthcare and most recently Becton Dickinson where he was Head of Quality from groundbreaking of a 120,000 sq. ft. sterile manufacturing facility through an FDA PAI inspection and eventual launch of several ready-to-administer, prefilled syringe products. Later in his tenure at BD, Jay moved into the Head of Manufacturing role responsible for all formulation, fill, and packaging operations. Jay holds a BS from Marshall University and is six sigma certified.
Phillip B. Maples, PhD
Vice President, Therapeutic Development & Quality Management
Dr. Maples is a versatile product development and manufacturing executive with over thirty years of industry experience in a number of pioneering cell and gene therapies for inherited diseases and cancers. While at Baxter Healthcare (1986-1998), Phil worked with Harry Malech, MD at NIH on the development of Chronic Granulomatous Disease gene therapy. At US Onoclogy (1998-2001), he developed and operated a Stem Cell Transplant Processing Network and a Phase I/II Cell and Gene Therapy Manufacturing Facility. At CellExsys (2001-2005), he established the clinical / regulatory frameworks and manufacturing for Antigen-specific T Cell clinical studies in different countries. At Gradalis (2005-2014), Phil developed gene-modified autologous cancer vaccines for various cancers (ovarian cancer registration trial ongoing). He has teamed to design and construct several cGMP cell and gene therapy manufacturing facilities around the globe and invented / co-created new closed system manufacturing components and processes, single use disposables and other manufacturing components. In addition, he co-created an ISO 9000 compliant quality system in order to certify a worldwide business division at Baxter Healthcare, allowing it to CE Mark and rapidly sell its new medical devices and components. Dr. Maples has significant experience in the preparation of regulatory submissions in the US and abroad and in developing productive collaborative international partnerships. Dr. Maples has 47 publications, over 170 presentations and 10 issued US patents.
Michelle Berg
Vice President, Patient Affairs & Community Engagement
Michelle Berg joined the company in June of 2015, serving as Vice President, Patient Affairs & Community Engagement. Previously, she was the first hire with Aldevron, LLC now a leading global contract manufacturing organization specializing in biological reagents for R&D through clinical trial use. During her time there, she held multiple positions with increasing responsibility, contributing to the growth and reach of the organization, focused on developing strong relationships, collaborations, and services. Additionally, she performed research on behalf of the Department of Plant Sciences, North Dakota State University. Her B.S. in Biotechnology was attained from North Dakota State University in 1997. She brings over 17 years of experience in the gene and cell therapy, vaccine, gene editing and molecular diagnostic fields.
Astrid Pañeda Rodríguez, PhD
Vice President, Clinical Development
Astrid Pañeda, PhD, joined Abeona Therapeutics as Vice President, Clinical Development in October 2017. She has more than 18 years of experience in basic and translational science, as well as clinical development with specialization in the field of ATMPs.
Dra. Pañeda was developing translational research projects on a fruitful collaboration between the Center for Applied Medical Research (CIMA) and the biotech company AMT (UniQure) from 2005 to 2010; gaining has experience in the nonclinical safety evaluation of novel biologics based on viral vectors. Later on, she joined Digna Biotech team where she was the head of clinical development programs for advanced therapies on orphan disorders during four years. On 2014, Dr. Pañeda joins the Sermes CRO team as Clinical Research Director for the coordination of the start-up, clinical research and pharmacovigilance units.
Astrid graduated in Biochemistry in 1999 and received her doctorate degree in 2005 in molecular biology. She started her clinical research training with the first promotion of the R + D + I Master of the Esame Foundation in 2011.
Kristina Maximenko
Vice-President, Global Head of Human Resources
Kristina Maximenko, Vice-President, Global Head of human Resources, joined the company in June 2018. Most recently, Kristina was a global Director of Human Resources for Advanced Accelerator Applications (AAA), an innovative nuclear medicine company that was acquired by Novartis in January 2018. She was leading the human resources function across 11 International AAA locations and served as the HR head in the U.S. Kristina was instrumental in growing the company from about 400 people to 650+ globally in two years, setting up company-wide HR programs and building cohesive company culture. She also played a key role during the integration process of AAA into Novartis and was a member of AAA's Executive Committee.
Prior to that, Kristina was a Global Human Resource Manager at FastGroup, a European travel technology company. She established their presence in the U.S. and built an HR function from the ground up. From 2010 to 2012, Kristina worked in Employee Relations Operations at Maquarie Bank, where she supported three business groups in all phases of employee lifecycle, International assignments and complinace. Kristina holds a law degree from Far Eastern National University (Russia).
Kristina's human resources expertise includes multiple functional areas such as recruitment, employee relations, organizational development and employment law with a focus on rapidly growing small- to medium-size companies.